Contact us
Mamaison Hotel Andrassy Budapest
Andrássy út 111
H⁠⁠⁠-⁠⁠⁠1063 Budapest
Hungary
Show on map
How to reach us?
The Mamaison Hotel Andrassy Budapest is located in the city centre, right by to the famous Andrássy útca avenue. The hotel is the ideal starting point for exploring Budapest. The famous Heroes' Square is about 400 metres away.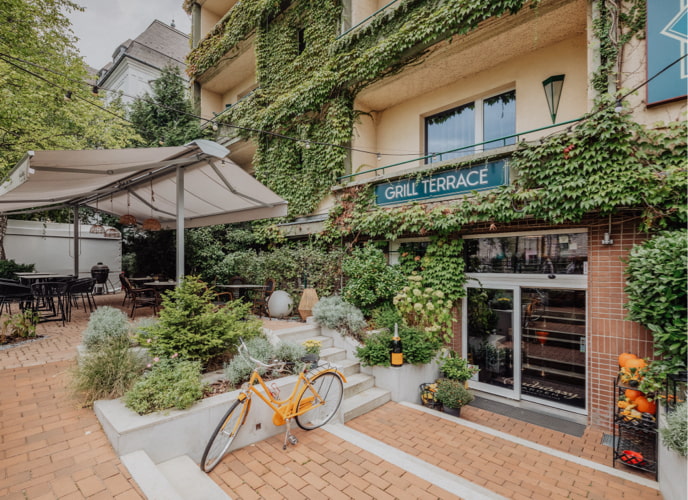 Our hotel is located about 20 km from Ferenc Liszt Airport. The Budapest⁠⁠-⁠⁠Nyugati railway station is less than 2 km away (about 25 minutes' walk). Bajza utca Metro Station (metro line M1) is about 200 metres from the hotel. If you want to visit by car, please arrange with to use the hotel parking spaces.
If you're travelling to us from the Belváros district in the city centre, you can reach the Andrassy Hotel via Erzsébet körút and Andrássy utca or Rottenbiller utca and Bajza utca. The hotel can be found on the right⁠⁠-⁠⁠hand side.
The Hotel Andrassy Budapest is within walking distance of the Budapest⁠⁠-⁠⁠Nyugati railway station. From the station, turn left along Podmaniczky utca (street)and after about 800 metres turn right into Bajza utca. Walk another 500 metres and you'll come to the metro station of the same name. Our hotel is about 200 metres from there.
Ferenc Liszt International Airport is located about 22 km from the city centre. You can reach the Hotel Andrassy by taxi in about 30 minutes, depending on traffic.
If you choose to travel by public transport, take the E100 bus from the airport to Deák Ferenc tér metro station. Then travel 6 stops along the M1 metro line to Bajza utca station. The hotel is about a 3⁠⁠-⁠⁠minute walk from there.